Sicilian Roast Potatoes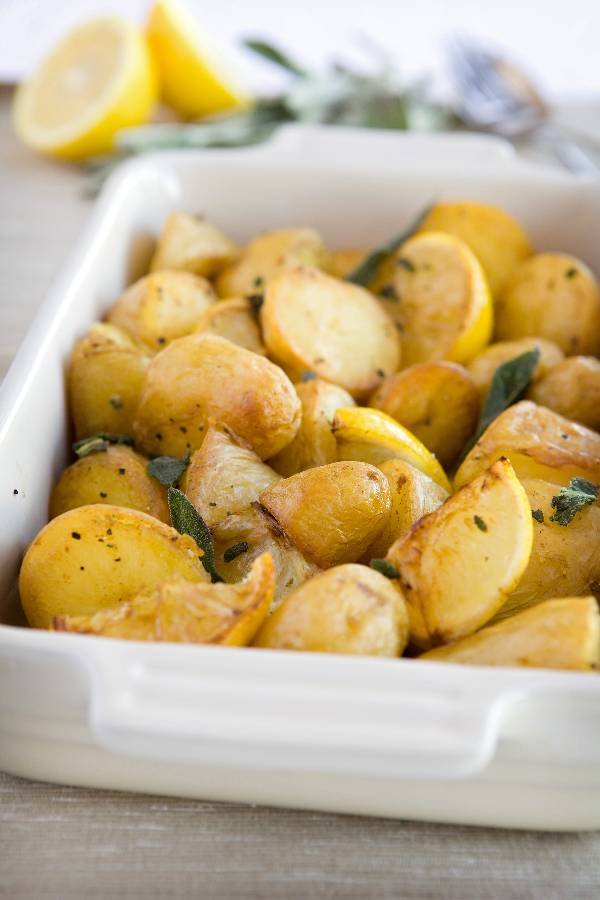 The perfect roast potato.
Crunchy as hell on the outside, soft and buttery on the inside, lemony, garlicy, savoury.
I'm confident in telling you these potatoes will up your sunday roast game like no other.
Give 'em a go.
For 2 people (plus a couple for chef snacks)
5 medium maris piper, or any other fluffy, floury potato
50g polenta
1 lemon, cut into half slices
2 garlic cloves, skin on
Fresh sage - a handful of leaves
1 teaspoon salt
100ml sunflower oil
On a baking tray, add the oil, the garlic, the sage, salt and the lemon slices, set aside

Peel potatoes and cut into three, making as much surface area as possible

Boil potatoes for a good 15 minutes in salted water

Drain in colander, and toss, making the surface of the potato fluff up

Put the potatoes back in the pan you boiled them in, add the polenta and toss until coated

Put the tray with the oil and the aromatics in your preheated over for 5 minutes, to heat up

Add the potatoes directly onto the pan. The potatoes should start frying immediately. Be careful as the oil may spit

Roast for 20 - 30 minutes, turning them over half way

Serve alone as an Italian patatas bravas with pesto aioli or with a tomato and puy lentil ragu - or alone with a salad!